Margaritaville Vacation Club® by Wyndham is an ownership designed around the laid-back, adventurous lifestyle of Jimmy Buffett as well as the fun and escapism of Margaritaville®.

As a Margaritaville Vacation Club owner and a CLUB WYNDHAM® Plus member, you will receive points annually which allow you to travel to Margaritaville Vacation Club resorts or to travel to any of the approximately 100 resorts within the CLUB WYNDHAM Plus portfolio. The points-based system allows you the flexibility to choose when, where, what size accommodations and the length of time you would like to stay.
Margaritaville Vacation Club owners have an Advance Reservation Priority (ARP), which allows you to confirm a reservation from 13-11 months in advance of your check-in date at your "home" resort. When additional resorts are added to Margaritaville Vacation Club, then owners will enjoy access to these resorts 11-10 months prior to arrival.* Reservations made within the Advance Reservation Priority window are subject to availability, and can only be made using points associated with your Margaritaville Vacation Club ownership.
Margaritaville Vacation Club owners within CLUB WYNDHAM Plus are eligible to request a reservation at any of the approximately 100 resort locations 10 - 3 months in advance of the desired check-in date.
St. Somewhere Society Privilege Period is from 10 months up to the date of arrival where up to 50 percent of unreserved standard Margaritaville Vacation Club inventory may be held back for the exclusive access of Margaritaville Vacation Club standard and Margaritaville Vacation Club Presidential Reserve Members, subject to availability.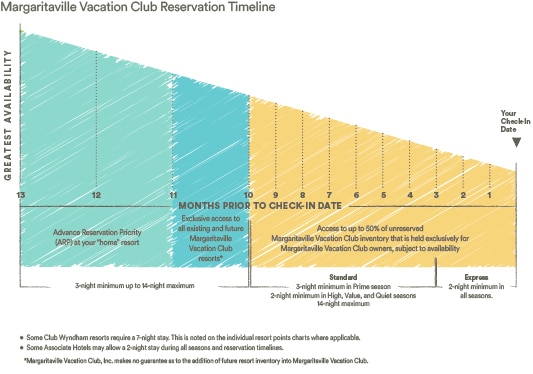 Important Information:
As a Margaritaville Vacation Club owner and a CLUB WYNDHAM Plus member who purchased fewer than 400,000 points, you will receive CLUB WYNDHAM® Silver VIP Owner status for two years.
Parrothead Exclusives are special, Margaritaville®-inspired benefits offered from time to time only to owners of Margaritaville Vacation Club by Wyndham. These become available throughout the year and change often.
Members receive advance notice of ticket sales to Jimmy Buffett concerts.
Members can present their Owner Card for priority seating at participating Jimmy Buffett's Margaritaville and LandShark Bar & Grill locations worldwide.