Margaritaville Vacation Club® by Wyndham is an ownership designed around the laid-back, adventurous lifestyle and escapism of Margaritaville®. As a Margaritaville Vacation Club owner, you are also considered a Club Wyndham owner and can enjoy the benefits of both clubs.
Points will be awarded on an annual basis, and you may use them to travel to resorts within the Margaritaville Vacation Club and Club Wyndham portfolios.
Through the Advance Reservation Priority (ARP) you can confirm a reservation as early as 13 to 11 months in advance of your check-in date at your "home" resort. And whenever new resorts are added to the Margaritaville Vacation Club portfolio, you'll have exclusive access to book a reservation 11 to 10 months in advance, even if it isn't your "home" resort.
For reservations at a Club Wyndham resort, you may book your stay as soon as 10 months in advance of your desired check-in date.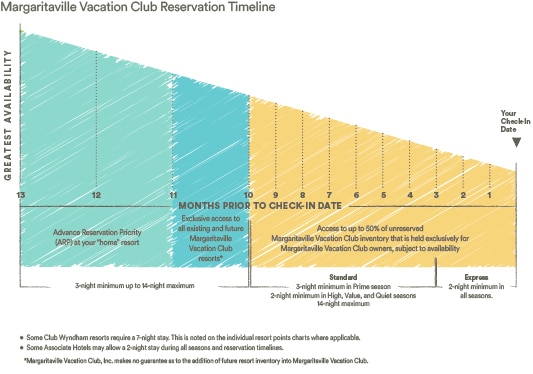 Important Information:
If you are a Margaritaville Vacation Club owner and Club Wyndham owner with 400,000 points or less, you can enjoy Club Wyndham Silver VIP owner status for two years.
Margaritaville Vacation Club owners enjoy exclusive benefits such as advanced access to Jimmy Buffett concert ticket sales, priority seating at participating Margaritaville and LandShark Bar & Grill locations using the Margaritaville Benefits Card, and various Margaritaville®-inspired benefits throughout the year with Parrothead Exclusives.
Reservations made within the Advance Reservation Priority window are subject to availability and can only be made using points associated with your Margaritaville Vacation Club ownership.
50 percent of unreserved standard Margaritaville Vacation Club inventory may be held back for the exclusive access of Margaritaville Vacation Club by Wyndham owners starting 10 months from the check-in date.